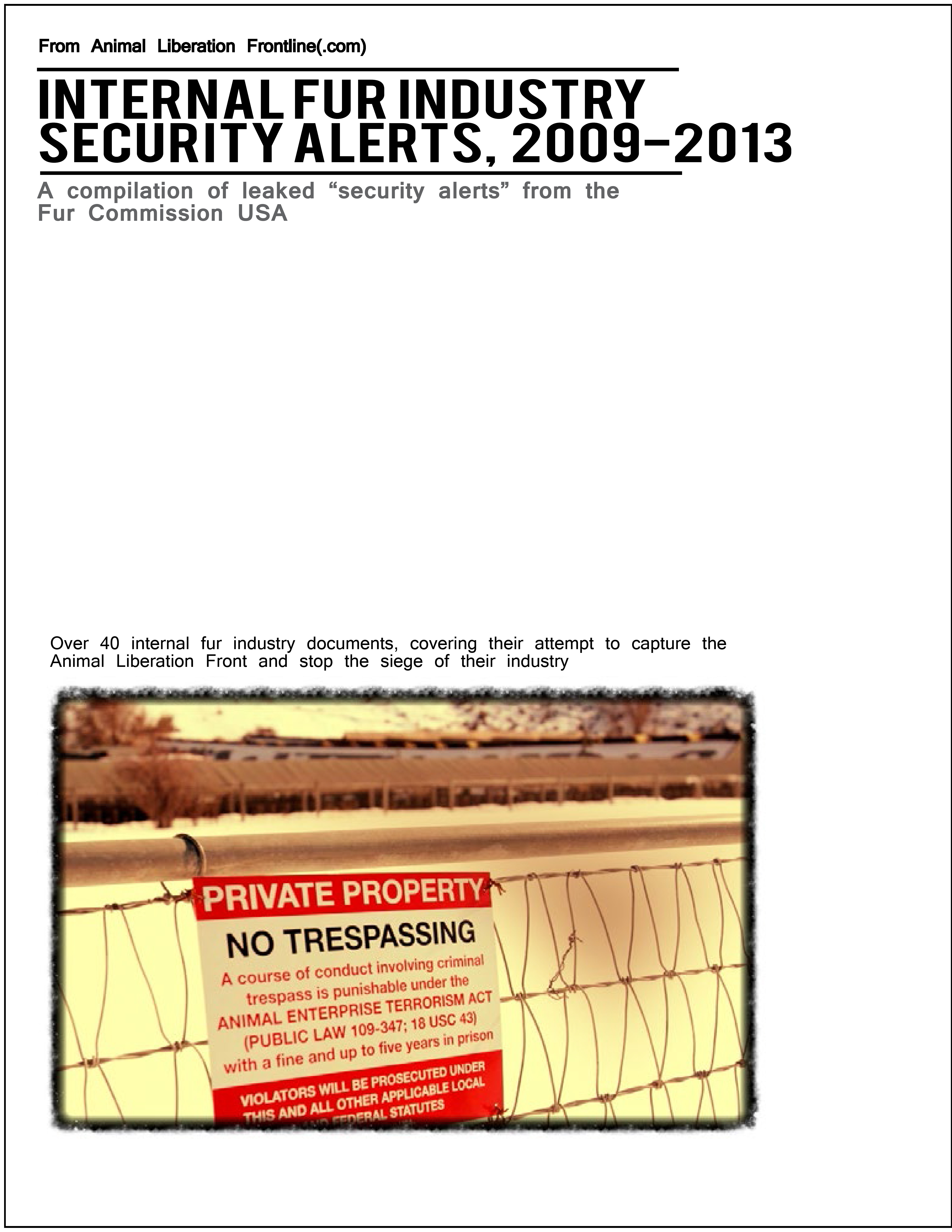 Jan

15
Tags
Related Posts
Share This
Document: Complete set of internal fur industry security alerts
Read complete set of 42 leaked Fur Commission security alerts in one PDF.
Over the past month, I have posted 35 security alerts sent to fur farmers by the Fur Commission (and 7 more in the year prior).
The audience for these is probably very small, of interest to people like:
Activists interested in how industry talks about them when they think no one is listening.
Those who end up in these alerts as "suspects" for being seen near fur farms (for whatever reason).
The anonymous individuals of the Animal Liberation Front, whose work is the primary inspiration for these alerts.
While the audience is limited, I decided to post these over the past month in the interest of documenting a rare glimpse into the how an industry under siege responds to the threat of animal rights activists.
I have compiled every security alert I've obtained into one PDF document.
Some background, if you haven't followed this series:
Animal Liberation Frontline has obtained dozens of internal fur industry "security alerts." These bulletins are sent to fur farmers via email and fax every time there is a "security" related issue affecting US fur farms. The subject matter can range from trespassers being chased from farms, to unpublicized details of ALF raids, to farmers sharing license plate numbers of "suspicious vehicles."These are intended to be read by fur farmers only, and were not intended to be read by the general public.
Read a full background on this series here.
All 42 security alerts: Links to every article

Announcing huge purge of internal fur industry "Security Alerts" (Series launch & background)
Leaked security alert #1: Aspiring fur farmer outed, more
Leaked security alert #2: Suspicious photographer in Iowa
Leaked security alert #3: Fear of daylight raid during "fur farm tour"
Leaked security alert #4: "Convicted felon" urging attacks on farms
Leaked security alert #5: Warning about "Ghosts in Our Machine" filmmaker
Leaked security alert #6: Trespassers on a fur farm in Idaho
Leaked security alert #7: Farmers warned of "undercover activist threat"
Leaked security alert #8: Meeting puts Oregon mink farmers on alert
Five leaked security alerts on Iowa fur farm arrests
Leaked Security Alert #10: "Suspicious" persons scouting Utah fur farm
Leaked security alert #11: Fur farmers follow suspicious car in Idaho
Leaked security alert #12: ALF raids fox farm during animal rights conference
Leaked security alert #13: Details on recent Utah mink release
Leaked security alert #14: Two activists arrested with "burglary tools"
Leaked security Alert #15: 400 mink released in Iowa
Leaked security alert #16: Farmers told to call police if their address is on the internet
Leaked security alert #17: Farmers warned of raids after talk by "extremist" felon
Leaked security alert #18: Two cars seen scouting Oregon fur farm
Leaked security alert #19: Thousands of mink freed in Idaho
Leaked security alert #20: New security advice for fur farms
Leaked security alert #21: Fur farmers upset over being ignored by police
Leaked security alert #22: Suspects seen scouting Wisconsin mink farm
Leaked security alert #23: Oregon fur farm reports trespassers
Leaked security alert #24: Car drives onto Utah mink farm
Leaked security alert #25: Unreported theft of 600 mink from Idaho farm
Leaked security alert #26: "Suspicious activity" alert after ag-gag charges dropped against Utah activist
Leaked security alert #27: Man seen taking notes outside Oregon mink farm
Leaked security alert #28: FBI claims "promising" evidence in Illinois mink farm raid
Leaked security alert #29: Unclaimed mink release in Minnesota
Leaked security alert #30: Farmers on alert over new Earth Crisis album
Final security alert: Police stop "animal rights felon"
Alerts posted prior to this month:
Leaked security alert: Released mink number in Iowa climbs to 500
More Leaked "Security Alerts": Fur Commission Memos on Five ALF Fur Industry Actions
Leaked Security Alert: Two Suspicious Vehicles Seen at Fur Farms
Leaked Security Alert: Fur Farmers Look Into Lawsuit Against This Site
Leaked Security Alert: How Two Fur Farm Raiders Were Caught
Hunt for suspicious car in massive fur farm campaign
Security Memo: Unreported Fur Farm Raid Attempt in Idaho
Leaked Fur Commission "security alerts", 2009 – 2013