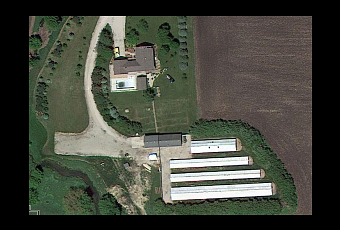 Dec

27
Tags
Related Posts
Share This
Security alert #28: FBI claims new evidence in Illinois mink farm raid
The 28th in a series of leaked Fur Commission "security alerts" Animal Liberation Frontline is posting this month.
Background: Animal Liberation Frontline has obtained dozens of internal fur industry "security alerts." These bulletins are sent to fur farmers via email and fax every time there is a "security" related issue affecting US fur farms. The subject matter can range from trespassers being chased from farms, to unpublicized details of ALF raids, to farmers sharing license plate numbers of "suspicious vehicles."These are intended to be read by fur farmers only, and were not intended to be read by the general public. I will be posting approximately 30 bulletins over the next month.
Read a full background on this series here.
A synopsis of this alert
On August 14th, 2,000 mink were released from a small mink farm in Illinois. The raid went unclaimed, and received little media coverage.
These two alerts reveal new details about this raid that were not made public. A few of the more interesting details:
Every animal was released in the raid. This detail was not previously made public.
One-third of the fencing was removed.
Vehicles were sprayed with "aviation stripper" and "Love is liberation" was painted on a barn.
The FBI visited the farm twice.
Security cameras on a neighboring property were said to pick up "promising images."
Also included is a note to fur farmers to be suspicious of anyone approaching them offering security services.
"Fur Commission USA
Security Alert – Update on IL farm attack
August 15, 2013
The mink rancher who suffered the farm attack Wednesday morning has, at this point, collected over 2/3 of the mink released.  The perpetrators released all of the 2,000 mink on the property, as well as tearing down about 1/3 of the chicken-wire perimeter fence.  Animals continue to return to the ranch as they become hungry, thirsty and frightened.
In addition to the release and the destruction of fencing, 2 vehicles were sprayed with aviation paint stripper, and "Love is Liberation" was painted on the barn/processing shed.
The FBI has had agents at the farm twice since yesterday, and have stated there are some leads.  A surveillance camera on a neighbor's property has caught some promising images.
All farmers should check and secure their perimeter fencing, and be on the lookout for any suspicious vehicles or persons near their facility.  Any chicken-wire should be replaced with corrugated metal or other solid materials when possible.  Alarm systems and/or cameras should also be installed.
In related news, several farms are reporting being approached by individual "security professionals".  When meeting with these people, please do it off-site, and be sure to check all references carefully.  Fur Commission can also help with checking references.
For more information on farm security protocols, please contact Fur Commission USA.
Distributed by,
Michael Whelan
Fur Commission USA
mw@furcommission.com
– – – – – –
Fur Commission USA
Security Alert – Farm Attack in Illinois
August 14, 2013
Early this morning, a mink farm near Morris Illinois was attacked by animal rights extremists.  At this time, it is unknown exactly how many animals were released. In addition to the release, fences were torn down, vehicles were damaged and a structure was painted with "Liberation is Love".
This is the second farm attack in 4 weeks, so ranchers are strongly urged to take serious security precautions.  Fencing should be strengthened, employees and family members should be briefed, and law enforcement should be made aware of your location and the recent attacks.  Nightwatchman should alter routines as to not be predictable. Any unusual lights or noises at night need to be immediately investigated.
Report any suspicious vehicles or persons to law enforcement and Fur Commission USA.  More details will be made available as they become known.
Distributed by,
Michael Whelan
Fur Commission USA
541-595-8568″