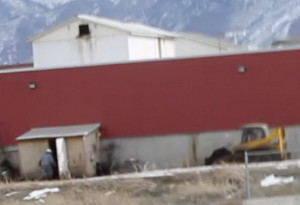 Dec

25
Tags
Related Posts
Share This
Leaked security alert #26: "Suspicious activity" alert after ag-gag charges dropped against Utah activist
The 26th in a series of leaked Fur Commission "security alerts" Animal Liberation Frontline is posting this month.
Background: Animal Liberation Frontline has obtained dozens of internal fur industry "security alerts." These bulletins are sent to fur farmers via email and fax every time there is a "security" related issue affecting US fur farms. The subject matter can range from trespassers being chased from farms, to unpublicized details of ALF raids, to farmers sharing license plate numbers of "suspicious vehicles."These are intended to be read by fur farmers only, and were not intended to be read by the general public. I will be posting approximately 30 bulletins over the next month.Read a full background on this series here.
A synopsis of this alert
The Fur Commission commits more fear mongering by "alerting" farmers to a benign protest occurring at a slaughterhouse outside of Salt Lake City, scheduled after ag-gag charges were dropped against an activists arrested for filming there.
This slaughterhouse is very close to (and on the same street as) the Dixon mink farm, also in Draper / Bluffdale.
"Fur Commission USA
Security Alert – Utah
May 16, 2013
Recently, criminal charges were dropped against a well-known Utah animal rights activist, Amy Meyer, for violating Utah's Farm Protection Act (making illicit video of farm practices). In support of her there is a protest, "200 Cameras, 200 Activists", scheduled for Saturday, May 18th at 2:00 PM. Reports indicate that the protest will be held at the Smith & Sons Meatpacking plant (12450 S. Pony Express Road in Draper, Utah). The participants are meeting to carpool from the South Jordan Walmart parking lot at 1:30 PM.
Fur Commission urges all mink ranchers in the area to be on alert this weekend for any suspicious activity near their facility, and to alert local law enforcement agents of the potential for actions targeting your property.
Any additional information discovered will be broadcast as it becomes available.
Distributed by,
Michael Whelan
Fur Commission USA"