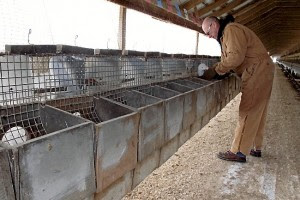 Dec

24
Tags
Related Posts
Share This
Leaked security alert #25: 600 mink vanish from Idaho farm
The 25th in a series of leaked Fur Commission "security alerts" Animal Liberation Frontline is posting this month.
Background: Animal Liberation Frontline has obtained dozens of internal fur industry "security alerts." These bulletins are sent to fur farmers via email and fax every time there is a "security" related issue affecting US fur farms. The subject matter can range from trespassers being chased from farms, to unpublicized details of ALF raids, to farmers sharing license plate numbers of "suspicious vehicles."These are intended to be read by fur farmers only, and were not intended to be read by the general public. I will be posting approximately 30 bulletins over the next month.Read a full background on this series here.
A synopsis of this alert
In the spring of 2013, Wisconsin media picked up the story of mink reportedly stolen from a mink farm. All indicators are that it was a theft for profit, and not the work of animal liberators.
This alert reveals a second, similar theft from an Idaho farm. In this "theft," 600 mink went missing from cages. This incident was never picked up by the media, and is first being made public in this alert.
The alert states this about the missing mink:
"It is possible, but unlikely to be animal rights related."
Taking the mink (vs. releasing them) does not fit the usual model of a raid by activists. However it cannot be ruled out this was a well-orchestrated raid in which animals were taken off-site and released to prevent against the usual high percentage of recaptured animals.
"Fur Commission USA
Security Alert – Mink kits being stolen
June 7, 2013
As many farmers are aware, a ranch in Wisconsin claimed that over 300 mink kits were stolen from the pens.  All were reportedly blue iris and had not yet been weaned. Thursday night a rancher in Idaho reported over 600 black mink missing from the farm. These mink were weaned and able to walk to a food plate. The perpetrators were familiar with mink farming as the kits were taken only from certain rows in certain sheds and were chosen because of their individual characteristics. Both ranches are AD-free
Law enforcement is investigating both cases, but Fur Commission USA urges all ranchers to take extra security measures and to take special care in making accurate kit counts. The perpetrators may be other ranchers stocking with AD clean mink, or may be acting as agents for foreign breeders. It is possible, but unlikely to be animal rights related. Please report any suspicions to Fur Commission USA, which will pass all information to law enforcement agents. There is a $5,000 reward for information leading to the arrest of those involved in the Idaho robbery.
Distributed by,
Michael Whelan
Fur Commission USA"