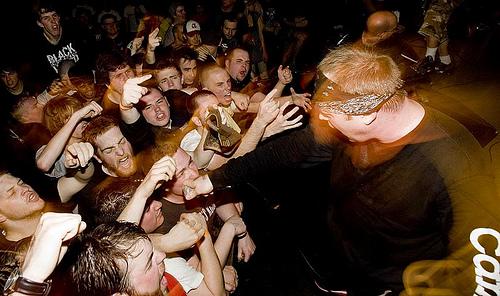 Jan

05
Tags
Related Posts
Share This
Leaked security alert #30: Farmers on alert over new Earth Crisis album
The 30th in a series of leaked Fur Commission "security alerts" Animal Liberation Front-line is posting this month.
Background: Animal Liberation Front-line has obtained dozens of internal fur industry "security alerts." These bulletins are sent to fur farmers via email and fax every time there is a "security" related issue affecting US fur farms. The subject matter can range from trespassers being chased from farms, to unpublicized details of ALF raids, to farmers sharing license plate numbers of "suspicious vehicles."
These are intended to be read by fur farmers only, and were not intended to be read by the general public. I will be posting approximately 30 bulletins over the next month.
Read a full background on this series here.
A synopsis of this alert
When they think they're only talking amongst themselves, animal abusers wear their naivete on their sleeves.
In this series I've posted internal fur industry communications in which farmers express confusion over not being coddled by police and suggestions to call police if their address is on the internet, among other bizarre examples. This is another one for that list.
In this alert, among the usual mentions of ALF prisoners and documentary filmmakers seeking footage, the FCUSA thought it necessary to warn farmers that vegan band Earth Crisis has a new album out. Lock your doors.
"FCUSA Security Alert
July 21, 2009
Farmers Urged to Be Alert
In Utah, the trials of William "BJ" Viehl and Alex Hall, which were schedueld for July 27, 28, 29 in Salt Lake City, have been postponed until late August or early September. Bail was revoked for Viehl and Hall for violating the terms of their pre-trial conditions. Viehl, it is alleged, communicated with ALF / ELF criminals in violation of his bail terms. Both will remain in the Davis County Jail in Farmington, Utah until their court dates.
Again, in Utah, Jordan Halliday, jailed for refusing to cooperate with a grand jury, was indicted with felony contempt of court. He has been released on bail.
Convicted criminal Peter Daniel Young, who served time for over million dollars in damages to farms in multiple states, has been spotted in Oregon and Idaho doing surveillance and filming farms. He was traveling in a rental car with [name redacted].
A new book on Rodney Coronado, Operation Bite Back, has just been released.
Earth Crisis has released its To The Death album.
Skin Trade, a film attacking the natural fiber fur clothing business, is in production.
Several suspicious people have approached farmers seeking work. Farmers are being targeted with cameras, sometimes hidden (in shirt buttons, glasses, hats, bandanas, purses, etc). Assume there may be a camera rolling when approached by strangers.
Do not hesitate to contact local law enforcement about anything or anyone appearing out of place in your neighborhood. Please pass over any license plates, description or suspicious people and vehicles to Fur Commission USA and we can check names of anyone considered for employment.
Fur Commission USA maintains a detailed Neighborhood Watch Report that is available for you and law enforcement. Ask us for it.
Distributed by Teresa Platt,
Fur Commission USA,
www.furcommission.com,
619-575-0139.
furfarmers@aol.com"